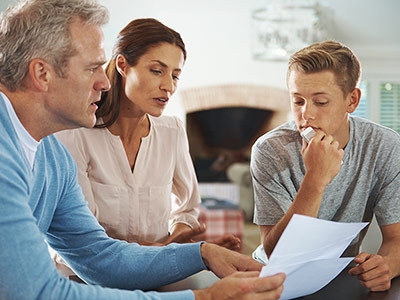 Use this free Teen Driver Contract Template to help your teen form safe driving habits!
You are the most important influence on your teen's development of safe driving habits, but you might not always know what to say or where to start. The Teen Driver Contract Template helps you have a productive conversation with your teen about safe driving.
Using the template that experts developed helps establish a sense of partnership with your teen. Remember, you're building safe driving habits together and fostering effective, face-to-face communication, which leads to safer driving behaviors.
Stop your search for a Teen Driver Contract that fits you. We've done the work for you!
We've provided links below to some of the best Teen Driver Contracts we found. We also developed a 'best of the best' Teen Driver Contract Template for you. Download it, review it and use it.
The Teen Driver Contract Template has the best elements:
Focuses on areas statistically proven to influence the safety of your teen and reduce the risk of an accident.
Brevity, while still having everything that is needed to shape your teen's behavior.
Clear articulation of your expectations and the related consequences of not meeting expectations.
Goals for your teen to demonstrate skills and trustworthiness behind the wheel.
Modifiable as your teen develops their skills.
So let's get started!
By all means, do the following before you hand over the keys!
Download the free Teen Driver Contract Template and save it to your computer.
Familiarize yourself with your State's Graduated Driver License laws. See a list of GDL laws in your state. This is important such that you can structure your Contract around laws in your jurisdiction.
Review the Template with your teen. Consider pulling down our "Teen Driver Statistics in 2017" post. It has educational statistics that help with the 'why' behind the contract.
Walk through the Teen Driver Contract again. This time, have your teen initialize or place check marks in the acknowledgement boxes. Don't forget for each of you to sign it at the end.
Finally, copy the Agreement and keep it in an accessible place. Review and modify as your teen demonstrates maturity and skill development.
Find other templates at: